BY LYNDSEY VIGIL
My name is Lyndsey and I have the privilege of bringing the Bible to life through creative pieces at Church on the Move. A while back I was working on piece about "hurry," and I wanted to say in BIG BOLD LETTERS:
JESUS
NEVER
SAID
HURRY UP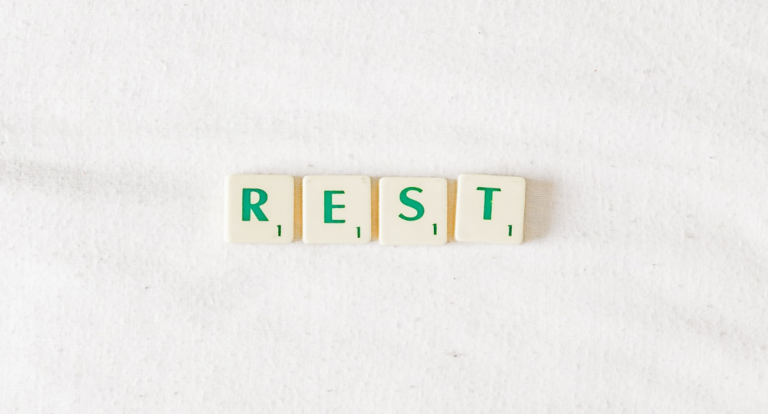 The only problem with that piece was that … Jesus actually did say hurry up. ONE TIME:
JESUS
NEVER
SAID
HURRY UP
ONE TIME
Needless to say, I didn't make the piece but I did start sharing the story of Jesus and "HURRY UP". Check it out below.
THE SURPRISING STORY OF "HURRY UP"
Jesus entered Jericho and was passing through.
And behold, there was a man named Zacchaeus.
He was a chief tax collector and was rich.
Zacchaeus was seeking to see who Jesus was, but couldn't see Jesus past the crowds because Zacchaeus was "small in stature". So he ran ahead and climbed a sycamore tree to see Jesus because Jesus was about to pass by.
When Jesus came to the tree, He looked up and said,
"Zacchaeus, hurry and come down, for I must stay at your house today."
So Zacchaeus hurried and came down and received Jesus joyfully into his home.
Later in the story, Zacchaeus says to Jesus,
"I will give half my wealth to the poor, Lord,
and if I have cheated people on their taxes,
I will give them back four times as much!"
And Jesus responds,
"Salvation has come to this home today, for this man has shown himself to be a true son of Abraham. For the Son of Man came to seek and save those who are lost."
Of course, these words were not spoken in English. Jesus never said our ENGLISH phrase, "HURRY UP" so my original idea is still kind of right … right?! (Just joking). I think the context around it proves that Jesus does put pressure on us to hurry up but not in the way that we think. Hear me out…
WHAT WE KNOW ABOUT ZACCHAEUS
1. He has a job as a tax collector
2. He's probably good at that job because they made him a "chief tax collector"
3. He's probably really good at that job because he's become wealthy from it
4. He's not a great a dude—he used his job to rob people
5. He's short 
Although the ins and outs of his daily life were definitely very different from mine, I can't help but see myself in Zacchaeus' story.
Here's a picture of one of my college graduations … Note: the excessive amount of honor cords (and pride hahaha). It's been several years (I won't say how many) since that photo was taken, but I still have that same prideful tendency. I'm a high-achiever, I get stuff done.
Like Zacchaeus, if a story was written about me, I'd probably let my defining characteristics be:
1. My achievements
2. Also pretty short
"HURRY UP AND FINISH THAT PROJECT WITH EXCELLENCE FOR ME, LYNDSEY!"
My assumption is often that Jesus is asking me to hurry up and get stuff done for Him. If I'm being honest, I act like Jesus is saying, "HURRY UP AND FINISH THAT PROJECT WITH EXCELLENCE FOR ME, LYNDSEY!" And don't get me wrong, I do believe there is an urgency with the Gospel. That we have a responsibility to share the qualities, characteristics, and stories of who Jesus is with people. But if I'm being real, real honest, most of the time I'm more concerned with sharing the qualities, characteristics, and stories of Lyndsey rather than Jesus. The main concern of my hurry is that I don't lose my identity of "chief accomplisher."
JESUS IS SPEAKING THE SAME WORDS TO YOU
If we look at the story again, Jesus is asking Zacchaeus to hurry up and do something. He's asking him to hurry up and be with Him.
Jesus' words to Zacchaeus are timeless and spoken over us daily… "Hurry up and slow down —be with me."
When you feel that pressure to deliver, to "get there on time", to get results, to win at life, remember the real message behind that pressure is an invitation to be with Jesus.
RECEIVING JESUS + GETTING TO KNOW HIM = SEEING HIM CHANGE YOU
Zacchaeus gladly receives Jesus into his home. It doesn't say what happens during their time together but I like to imagine they had some food together, hung out a bit, and got to know each other. I imagine Zacchaeus talked to Jesus about the pressures of his life, shared about his family, and opened up about the areas that suck about life. I also imagine that Zacchaeus asked Jesus about His life, His job, His hobbies, and had conversations that all new friends have and found common ground.
Whatever the conversation, we know that what happened caused Zacchaeus to radically change his life. He says, "I used to rob people for a living, I cheated them on what they owed … now, I'll give to people. I'll give half my possessions to the poor and the people I robbed I'll pay back 4x as much."
I often look at stories in scripture and wonder how these followers of Jesus had such radical actions. I can't imagine giving away half of my possessions. But in this story I see the formula for unlocking my heart to give generously, to live radically. The formula is this … receive Jesus gladly into your home + get to know Him = seeing Him change you.
WHATEVER HAS YOUR TIME HAS YOU
What would it look like to hurry up and slow down this week? To receive Jesus gladly? To let every moment ("spiritual" or not) be centered on Him? What I've seen in my own life is that whatever has my time has my heart—it has me. I'm not putting pressure on you to spend 45 minutes in prayer (if that's what you feel like you need to do, then DO IT). I'm simply asking, if you're already on your way home, why can't Jesus come with you? If you're already having dinner with the family, couldn't He come too?
Every moment of your time can be centered on Jesus if you let it.
For more on slowing down check out the blog post 'Rest Over Hurry' by Amanda Torres.