A PODCAST HOSTED BY WHIT GEORGE AND ADAM BUSH
Spirit In Motion is a podcast hosted by Whit George and Adam Bush where they talk about their spiritual journeys and attempt to make sense of it all. It's not often that you get to hear pastors be as honest and open as Whit and Adam are on this podcast.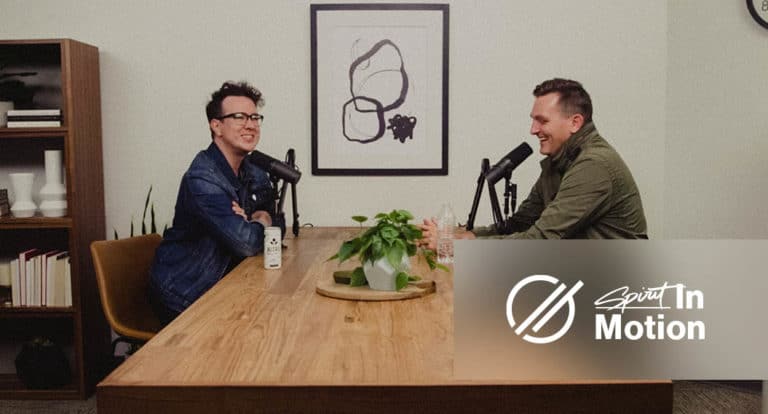 WHAT DO THEY TALK ABOUT?
Each season we choose a different spiritual theme and share stories and ideas related to that theme. Spirit In Motion focuses on actively deconstructing yourself, the things you've learned, and the ideas you have and aligning each of those areas with the life and teaching of Jesus found in scripture. They share stories on how they stopped avoiding the reality of what was going on in their lives and continually bring the dark parts of life to light.
FINDING GOD BEAUTIFUL
"I realized that I found God to be useful, just not beautiful. Little by little, the more I started to think about that—the more I understood that, the more I fell in love with Jesus for real. I wasn't the same self-centered, prideful, egotistical person that I'd always been. I found myself having more patience with my wife and kids, being more understanding, and being more empathetic."
"…THE MORE I UNDERSTAND THAT, THE MORE I FELL IN LOVE WITH JESUS FOR REAL."
"All of the things that I lacked before naturally started to happen for me. Not that there's no effort in any of it, but I found myself wanting to do new things because I saw in Jesus a more beautiful way than the way I was doing things before. And I thought, 'well, then I want to be more like that because if that's who you are, that's how I want to be… because that's so much better than what I've been doing.'"
—Whit George, Spirit In Motion: Forget the Rules. It's Really About Relationship.